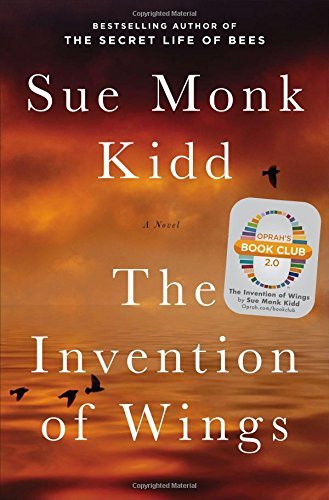 "I'm always captivated by women who find a way to be daring – misbehaving women." -Sue Monk Kidd
I finished The Invention of Wings on the way home from New York City, and right there on the plane, I cried. It is one of the most heartbreaking, uplifting, gorgeous books I've ever encountered, and (not to overhype it or anything) I have no doubts it will be one of the best novels of the decade. The English teacher in me immediately wanted to assign it to everyone on the plane, not in a bossy kind of way, but in a "I love all you strangers and you've got to read this book for your own happiness and joy" kind of way. Obviously.

While Sue Monk Kidd's writing is rich and beautifully complex, the most edifying part of the novel is that the story is based on the lives of two real sisters from the 1800s, Sarah and Angelina Grimke, and their household slave Hetty. The Grimke sisters grew up in privilege as the daughters of a wealthy Charleston judge. Sarah is one of the two main protagonists; the other is Hetty (nicknamed Handful), the ten-year-old girl "given" to Sarah for her eleventh birthday. Handful is a domestic or urban slave, so the Grimkes like to think they treat her as part of their family (spoiler alert #1: they don't). Instead the reader gets a peek into the horrifying world of Handful and her mother, Charlotte; the ups and downs of their relationship are perfectly, heartbreakingly written.
While Hetty and her mother rebel against the injustices of their enslavement, Sarah and Angelina also find their world to be narrow and oppressed. Sarah has known from childhood that she is different from other women: she's unable to accept the only role she's offered (marry and breed young), and she absolutely cannot live in a world with slavery. She'd love to be a judge like her father and actually fight for change; instead she has to watch her older brother reluctantly carry on the family tradition while she is hurt again and again by her father trying to knock out her ambition "for her own good." She's a misbehaving woman, remember, because she's willing to fight for justice and equality in her world. So she leaves South Carolina, but over the course of several decades, life pulls her back again and again.
The novel traces the journeys of Sarah and Handful for 35 years, detailing their fragile and emotionally trying, yet genuine, bond; their heartbreaking struggles for basic human rights; and their deep yearnings for freedom. Not without great personal sacrifice, Sarah and Angelina become some of the very first female abolitionists, and that part of the book is fascinating to read. The Grimke sisters are unsung heroes in the fight for both abolitionism and women's rights, and it's awesome to see Sue Monk Kidd's words pay tribute to them. Hetty's bondage and her difficult love for her mother makes her story heart-wrenching as well (spoiler alert #2: you will need tissues).
As Sarah and Hetty's stories connect and converge over the years through Sue Monk Kidd's seamless, poetic writing, I was overwhelmed with emotion, rooting for both women to find the lives they deserved. The Invention of Wings is full of such depth and beauty that it will stick with you long after the final page.