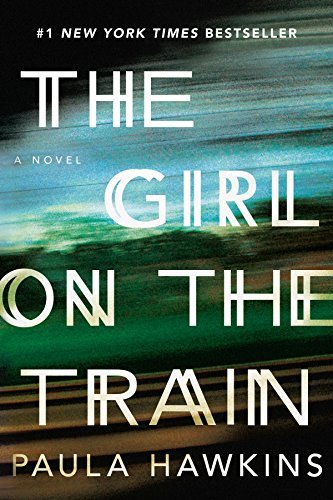 When I told my husband the title of the new book I'd started, he responded that he was reading The Guy on the Bus. Not to be outdone, we had a great time coming up with new titles in this imaginary series (try it: it's fun! Or maybe it was just midnight around here and we were a little delirious). All jokes and silly titles aside, though, this book brings some serious Hitchcock-style mystery and intrigue: whether on a train, a bus, a hammock, or your couch, you will definitely be reading this one on the edge of your seat.

The Girl on the Train is set outside of London, and Rachel, the primary protagonist, suffers daily through a long, slow commute into the city. She's also suffering from an alcohol addiction and a broken marriage: why her life fell apart is revealed over the course of the novel. Making things even worse, though, is that on her morning and evening commutes, she rides right past her old neighborhood, where at her old stop she catches painful glimpses of her ex-husband and his new wife and daughter.
A couple houses down from her ex, a new set of neighbors have moved in. Rachel's never met them, but she watches them on her commute, too. From her spot on the train, they seem to be the perfect couple: attractive, attentive, loving toward each other. Rachel imagines this random couple to be everything she and her ex, Tom, were not. But one morning, she sees something in this new couple's yard that changes everything.
Later that week, Rachel learns the mystery couple's names: Scott and Megan Hipwell. Their faces are flashed across all the news: Megan is missing, and her husband Scott is the primary suspect. But based on what Rachel saw, she knows Scott couldn't have killed his wife. She befriends Scott and works her way into the investigation.
But what if Scott does have something to do with Megan's disappearance? What really happened between them? More questions unfold as we begin to doubt the reliability of Rachel herself. For instance: why is Anna, Rachel's ex-husband's new wife, accusing Rachel of stalking them? And most importantly, why can't Rachel remember the night that Megan disappeared?
Told from the unraveling perspectives of Rachel, Megan, and Anna, The Girl on the Train is a fantastic read. While there are definitely shades of Gone Girl, I liked The Girl on the Train a lot better: the characters are undoubtedly flawed, but I found them much more likable/sympathetic, especially once you learn their backstories and motives. And though there are a few words sprinkled here and there, overall Train is much cleaner on language. The shocks are less in your face, more subtle and spooky in the tradition of Agatha Christie or Alfred Hitchcock.
I really enjoyed reading this one – to the point that I was extremely sad when it was over! Determined to make the book last, I kept stretching out my reading sessions, even though I couldn't wait to see how the author pieced it all together. A few scenes in the book were so terrifying and intense that I actually had trouble sleeping afterwards – not because I was scared, but because my mind was racing with the shock of what just happened. The conclusion was wild but well-done. The biggest negative is that this is author Paula Hawkins's debut novel, so I can't immediately read another one!
If you're also a fan of smart, intricate mysteries, you will not want to miss taking a ride with The Girl on the Train.